Widget templates are a minor update, but we know many users were asking for them. We added a new option to our website where you can create the widget from a template.
What are the widget templates?
Let's assume that you are managing multiple widgets and need to create more of them. You've carefully crafted a very nice Instagram widget using our widget creator, and you are thrilled with the result. You want to create another widget with precisely the same settings. And here is the problem – if you have been using our website for a while, you most probably noticed how many options our widget creator has. Setting up another widget with the same settings can be cumbersome and require a lot of clicking😩.
Widget templates to the rescue! Now you can easily copy the settings from one widget to another with a single click🥳!
All settings from the given widget, except the Instagram account and Hashtag filtering from the Content section of the widget creator, will be copied to a new feed.
How to use the widget templates?
The usage is pretty straightforward. Go to the list of your widgets and click the Show more button next to the widget you want to use as a template.
In the widget info section, you will find the button Create a new widget from this template.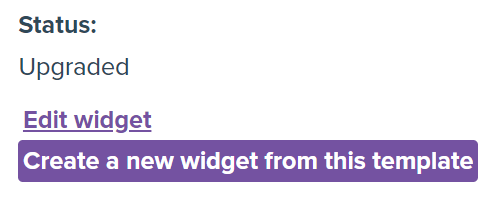 Clicking on this button will take you to a page where you can create a new widget. Settings from the widget will automatically apply to the creator.
This function works both for free and for upgraded widgets.