If you are reading this article, you probably got a link to this page along with the "developer code". This article will explain what developer code is for and how to use it.
What is developer code?
The developer code is a string of characters that represents the user (developer). By using this code you give its owner following abilities:
Developer can create new widgets for your Instagram account.
Developer can change settings of upgraded widgets that belongs to your Instagram account.
Prerequisites
To use the developer code, you must have a LightWidget account created and at least one connected Instagram account.
If you don't have one yet, read this article first to learn how to connect Instagram account and than return back to this article – How to connect Instagram account?
How to use developer code?
If you are not logged in yet, log in to this page – log in to LightWidget.
From the menu select Developers link.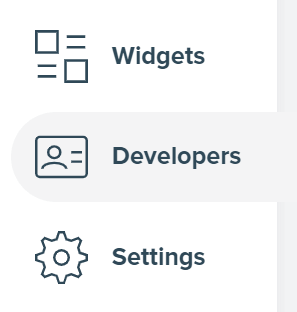 On the Developers page you will see a list of all users (developers) who can manage your Instagram accounts. There is also a form on the same page where you can enter your developer code.
Please paste the code sent to you by the developer in the Developer code field and click the Add new developer button.

After clicking the button you will be taken to the page where you will see information about the developer and a list of your Instagram accounts.
From the list of your accounts, select one that the developer will have access to.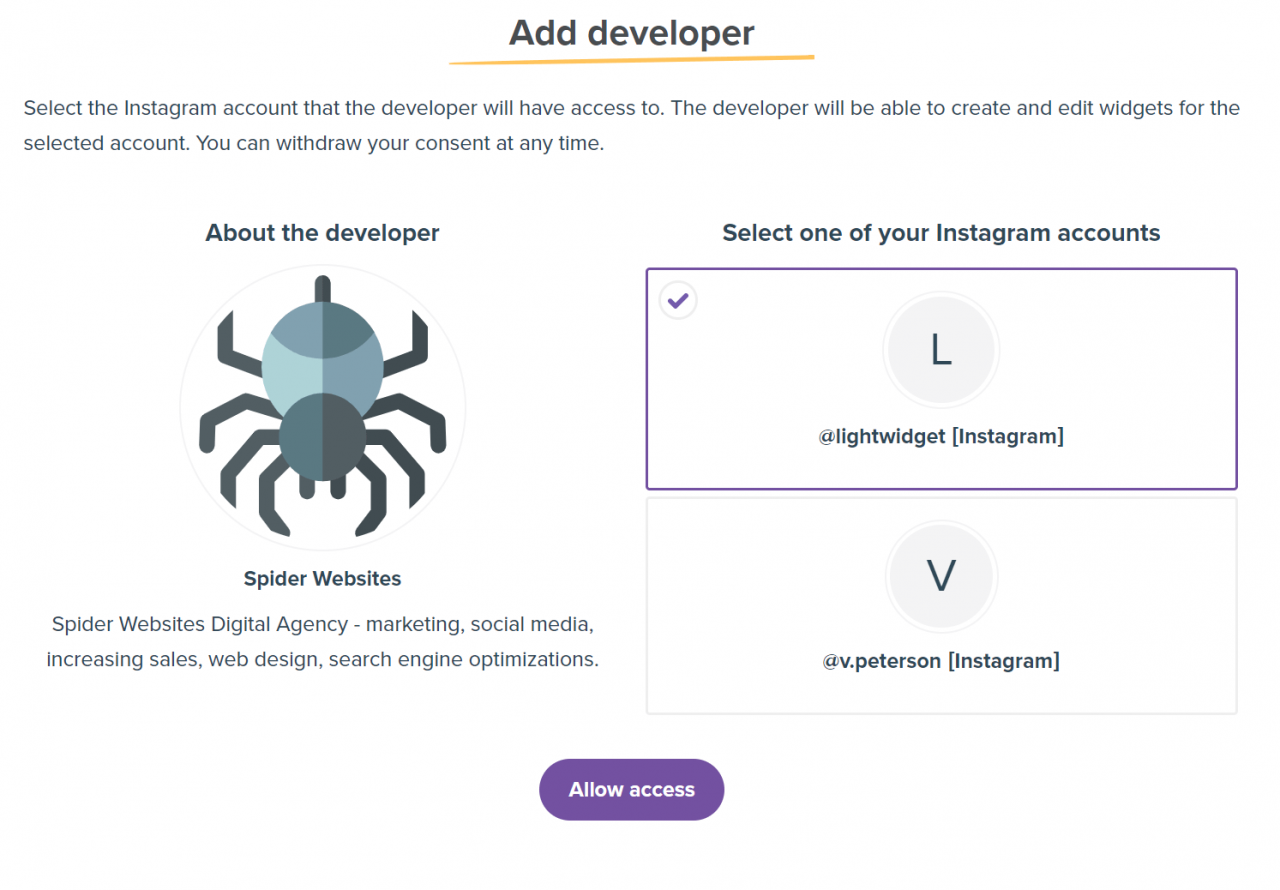 In the screenshot above, the user is giving access to a @lightwidget Instagram account. Remember that giving access only means that the developer will be able to manage your widgets on the LightWidget website. He won't have access to your Instagram account.
Select the account you want to give access to the user and click Allow access button.
After giving access to your Instagram account, the developer should be visible on the list of developers.
How can I remove a developer?
You can remove the developer at any time. Go to the developer list and find the developer you want to remove.
Click the Disconnect button next to the Instagram account that the developer will no longer have access to. Confirm the account disconnection in the dialog box. If the developer has access to multiple Instagram accounts, repeat the procedure for each account.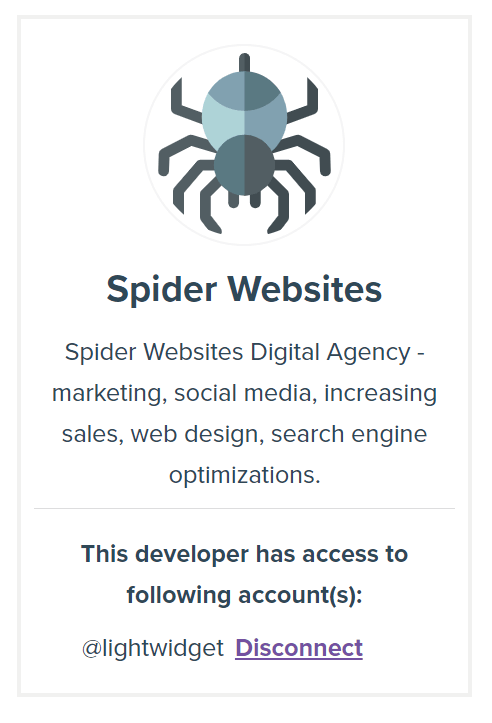 Once access to Instagram account is revoked, the developer will no longer be able to create widgets for your account. All widgets created by him will remain in his account, and you will not have access to them.
If you want the developer to no longer have access to your Instagram account, but at the same time you want to have access to widgets created by him, ask him to disconnect your account. Then all widgets created by him will be transferred to your account.