We are using Instagram API in order to display your pictures, videos and info about your account in our widgets. In order to get the data we need to create widget for you we built our LightWidget App which was approved in review process by Instagram. When you log in for the first time you will notice a popup on Instagram page. Popup below is example for @lightwidget user.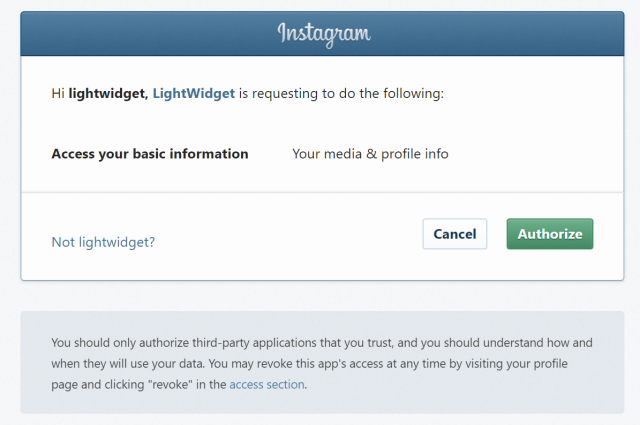 When you click Authorize button you grant us access to access your data via Instagram API and access token is created. By using created access token we obtain data from Instagram API in secure way.
What will happen if access token expires?
It is important to keep access token valid and not expired. If token will expire or will be removed by the user we will no longer be able to update the widgets with latest content from Instagram account. It can cause errors or missing pictures in our widgets.
How to refresh access token?
Please read this article here – How to refresh access token? It contains instructions how to get new Instagram access token for your account.
How to revoke access for your app?
It is possible to revoke access and make access token inactive. Please follow the instructions on this tutorial – How to revoke access?