If you would like to create a widget for your client this guide is for you! It describes how to create and edit widgets from your clients without asking them for credentials to Instagram accounts.
How it works?
Let's say that you – the developer – would like to create a widget for Instagram account @john.doe (the client). Here are the neccessary steps:
Developer copies unique developer code from his account on LightWidget website.
The developer sends the code to the client with instructions on how to use it.
Using the provided instructions client adds developer to his developer list.
From now on developer can create and edit widgets for client.
Prerequisites
First of all you need an email account on our website. Only for email accounts it is possible to copy a developer code. It is not possible from the accounts created by logging in via Instagram or Facebook.
If you don't have email based account on LightWidget yet, please create first one – Create account on LightWidget.
How to get the developer code?
You must be logged in to your LightWidget account to copy the developer code. If you are not logged in yet, log in to your account with your email address and password – log in to LightWidget.
From the menu select Settings link.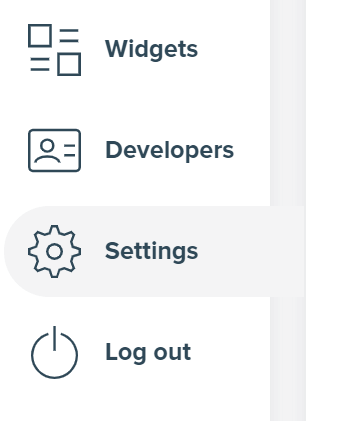 Scroll to Developer code section. You will see your unique developer code for your account on LightWidget. Each user on LightWidget has its own developer code. Click Copy to clipboard button to copy the code.

You can click the preview of developer page link to get the preview of how the page will look like on client side. We recommend updating your user details before sending the developer code to a client. It will look much better on user end and it will make it easier for the user to identify given developer.
Here is the screenshot showing preview screen without any information provided in user details form: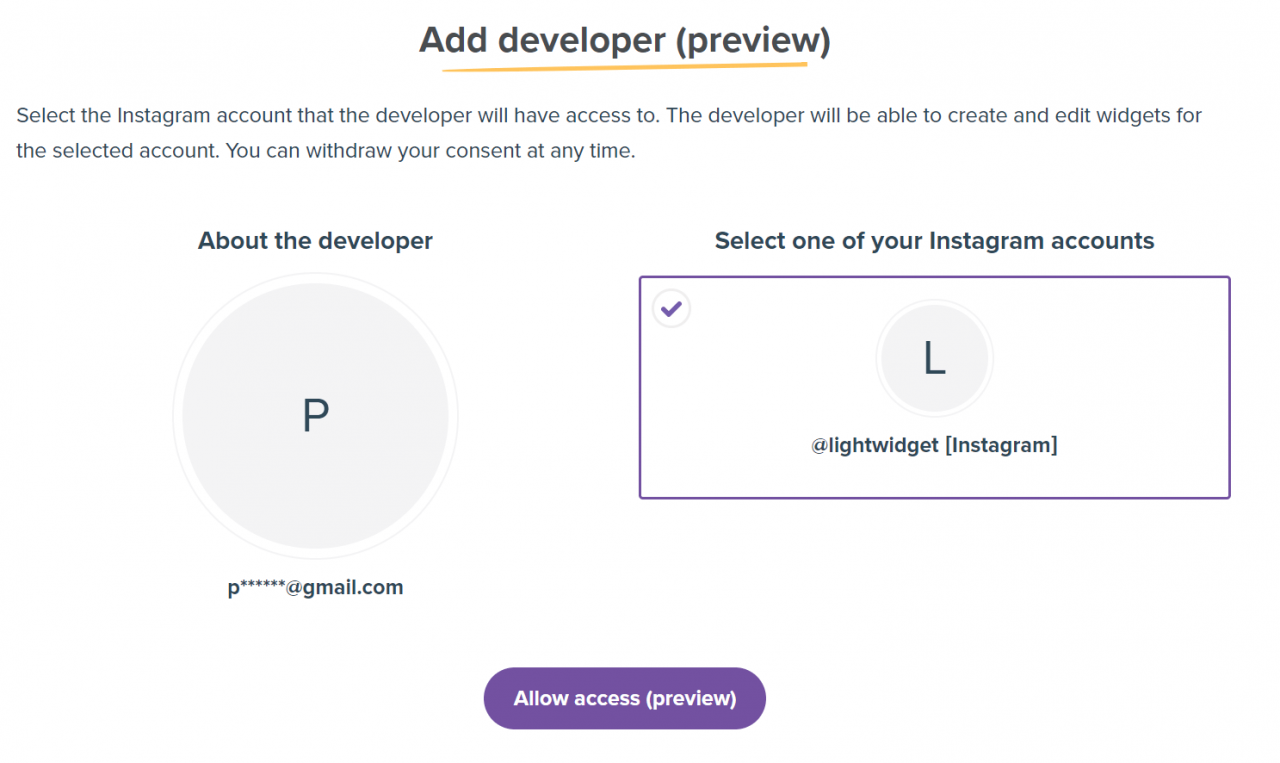 And here is the screenshot showing the same page when user fills the details: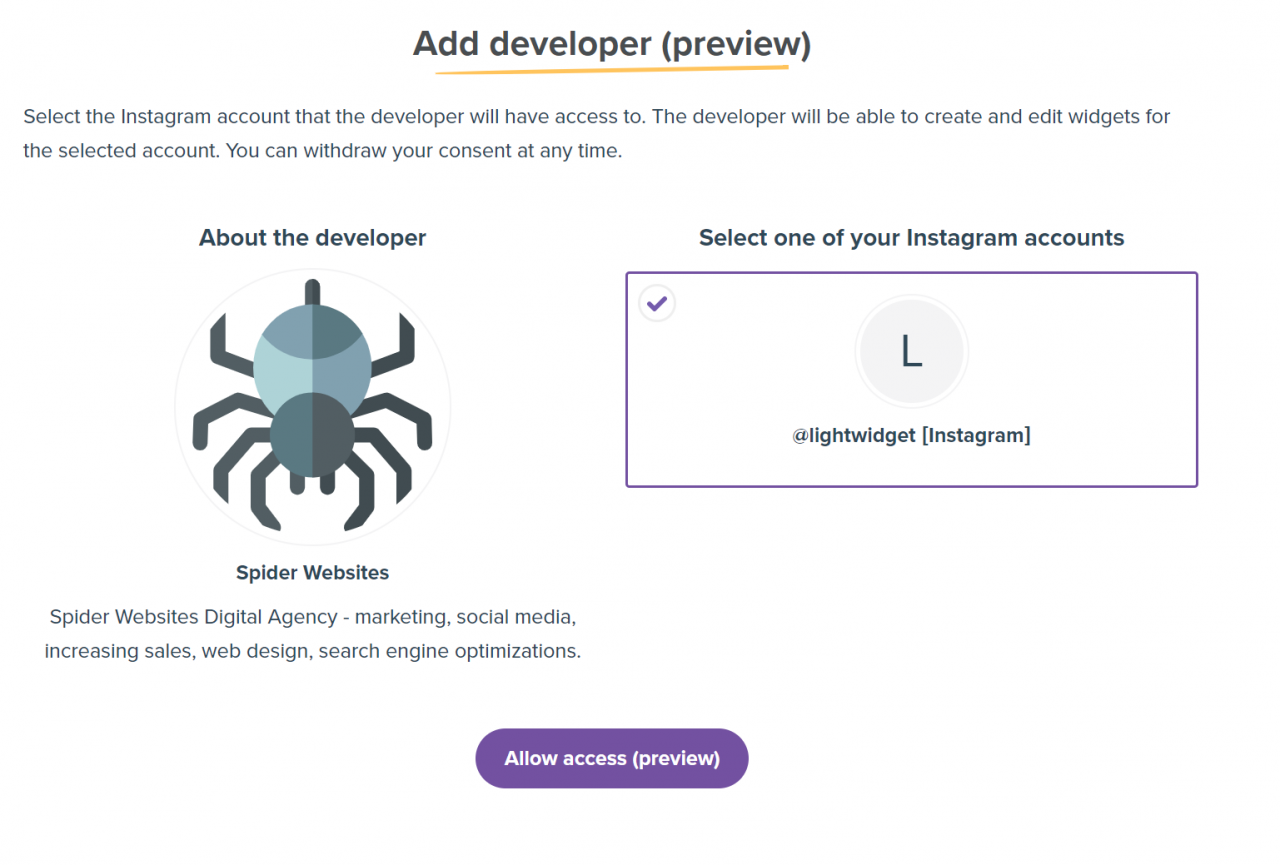 Version with configured user (developer) account is much better. You can change your name, avatar and description on this page – Edit user details.
Instructions for your client
Once your developer page will be prepared and you will have the developer code, send it to your client with the link to this article – How to use developer code?
After the client grants you access, you will see your client's Instagram account on the list of available accounts and you will be able to create widgets on behalf of your client.
FAQ
How many different clients can be added this way?
There is no limit to the number of clients that add you as a developer. You can only manage one account this way, but you can also manage 100 accounts.
Where can I find the list of accounts that I can manage as a developer?
The list of Instagram accounts that you can manage as a developer is on the Instagram accounts page. On this page there is a section "Accounts that I manage" where you will see a list of available accounts.
Can I stop being a developer for a given account?
Yes, you can. Go to the page with the list of accounts you manage. Hover your mouse over the account you want to delete and press the delete button that appears. Confirm the deletion in the dialog box.
Remember that all the widgets you have created for this account will be transferred to the client's account and you will no longer have access to them.
Can a client remove my developer access to his Instagram account?
Client can do this at any time. If he does, any widgets you create for his Instagram account will remain in your user account. You will no longer be able to create new widgets, but you will be able to change the account for which the upgraded widget is created.
How can I create a new widget for a client?
Go to the widget creation page. Select your client's Instagram account from the list of available accounts and configure the widget.
Where can I find the widgets I have created for my client?
All the widgets you have created for your clients are listed on the My Widgets page. You can see widgets in the "Widgets from accounts that I manage" section.
In addition, the list also includes other widgets from your client that he created. You can edit its widgets which have Upgraded status.
How do I edit a client widget?
Editing is the same as with your widgets. Click the Show More button in the list of widgets next to the one you want to edit. On the next page there will be an Edit widget button. Click on it to go to editing.