Hello everyone! Today we are pleased to present you our new widget creator! Finally, after 4 years, we rewrote the entire creator, giving it a new look and new options! In addition, there are a couple of other improvements and changes😄 Below you can find the list of all changes.
New widget creator
Let's start with the biggest change – the form for creating your widgets. Here is how it looked in the past: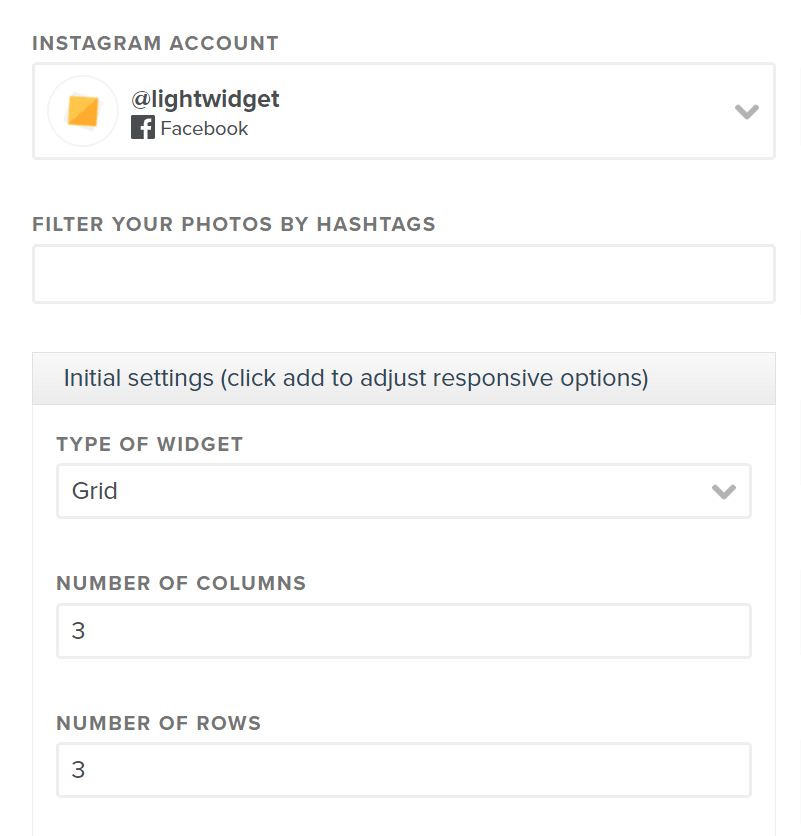 And here is how it looks right now: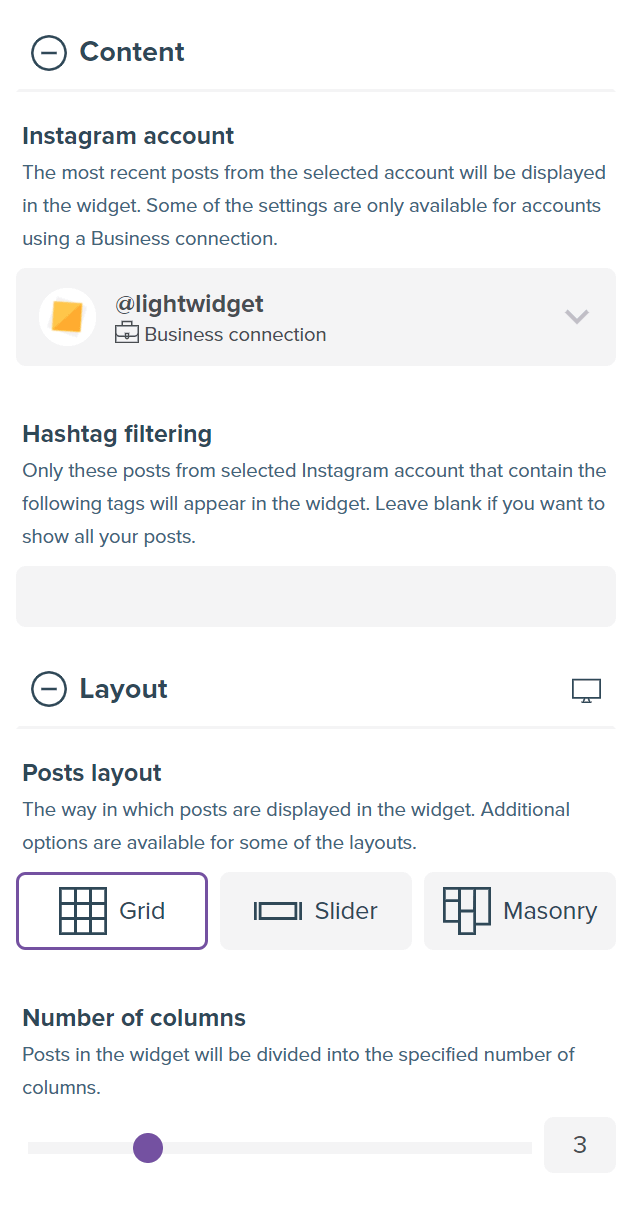 Check what changes we have made:
Options are now grouped in sections so it's easier to find the settings you are looking for. Previously everything was listed as one column and we've been adding new features making the form super long. Now it's shorted and in our opinion – easier to understand!
Each field have the help text explaining what particular option does. It should be helpful for non-tech user creating the widgets for their websites.
Instead of dropdowns, we now have a selector with icons. Less clicking!
Instead of number inputs we have sliders, but you still have the option to provide a value by chagning the number field.
Clearer display of unavailable options (because of settings conflict or usage of consumer connection).
Preview is now generated when you change any of the options available in widget creator. No need to click the "Create preview" button to see the changes.
Errors are now displayed under the field instead of the bottom of the form.
Complitely new, more intuitive, way of configuring the mobile options. Read more about how to use the new functionality here: How to configure widget for mobile.
Option to display the widget on dark background so it's easier to configure the widget for users with dark color scheme.
Option to configure the widget creator.
Visual updates to inputs and other elements.
Some of the options have been renamed.
Previously, next to the widget, there was an orange arrow that you could use to resize the widget to see how it looks like on desktop, tablet, and mobile devices: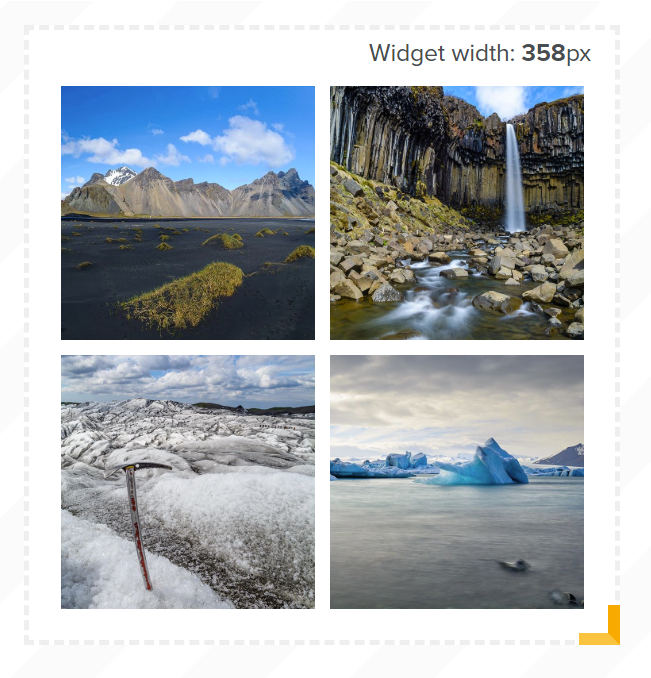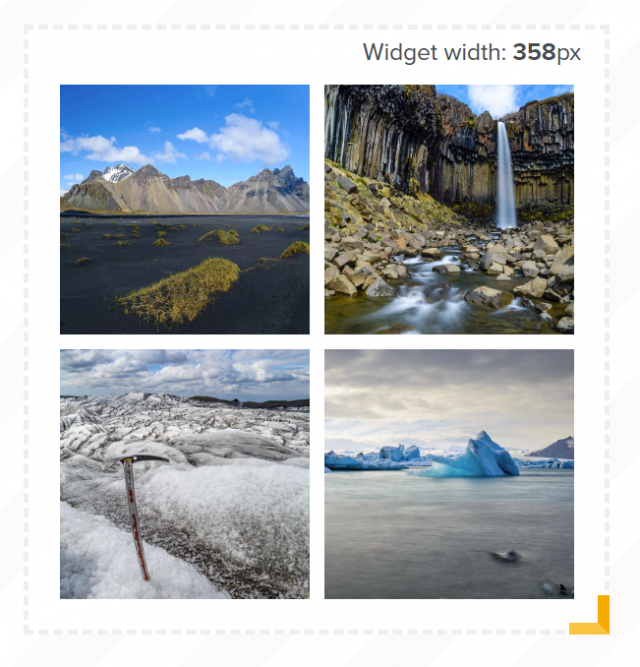 After the update, it's much easier. You can check how the widget looks like on various devices using 3 buttons placed above the widget:

The same buttons are also used to switch between desktop, tablet, and mobile settings.
The new widget creator also has some configurable options. In the top right corner, next to the buttons where you can change the preview of the widget, there are 3 dots. Once you click on this button, a context menu will appear with configurable options.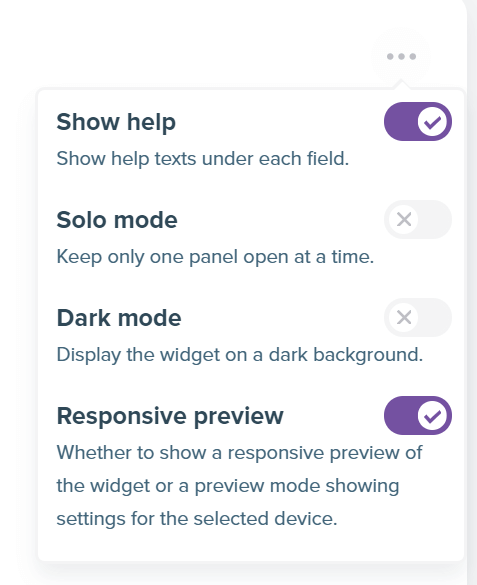 You can configure:
Showing help texts under the inputs. Hiding the help texts makes the form smaller. Recommended for users which are already familair with our widget creator.
Solo mode for accordion panels. You can decide whether you want to keep only one section with options open or to have the possibility to keep multiple panels open.
Showing widget on dark background instead of white one.
Turn or on off the responsive preview. Useful option on smaller screens or in ceratin situations. More on how to use this option can be found in this article: How to configure widget for mobile.
Header in the widgets!
This feature is available for some time, but we didn't announce it properly yet!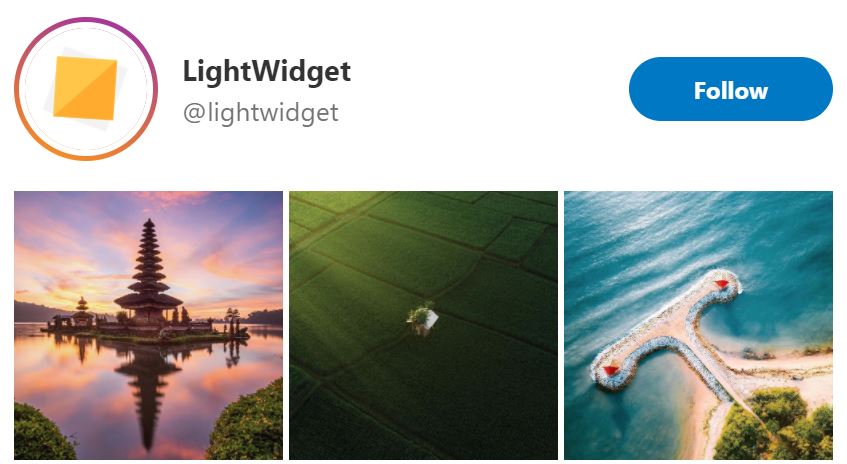 You can now configure the header for your widget containing information about your profile and the follow button. The header is optional for the widget. Currently, we added 4 different layouts and 9 elements to show. You can choose which elements should be visible and which ones should be hidden. Some elements require the Instagram account connected over a business connection (previously named Facebook connection). You can read more about business/consumer connection in this article: The difference between business and consumer connection.
Headers are available for all widgets, both free and upgraded. If you would like to add the header to your widget, please edit your widget settings or create a new widget.
Business/creator connection instead of Facebook/Instagram connection
We decided to rename the Instagram account connection methods. Previously it was named Connect with Facebook and Connect with Instagram.
The reason for the change was that some of our users thought that connecting via Facebook would generate a widget for a Facebook account. To avoid similar mistakes, we decided to rename the connection methods to:
Business connection, previously named Connect with Facebook
Consumer connection, previously named Connect with Instagram
Other than the name change, everything else works in the same way!
Updates to columns widgets
Columns type of widgets (currently named Masonry) got a visual update too. We removed the border around the images and added the option to hide or trim the captions. Here is the before: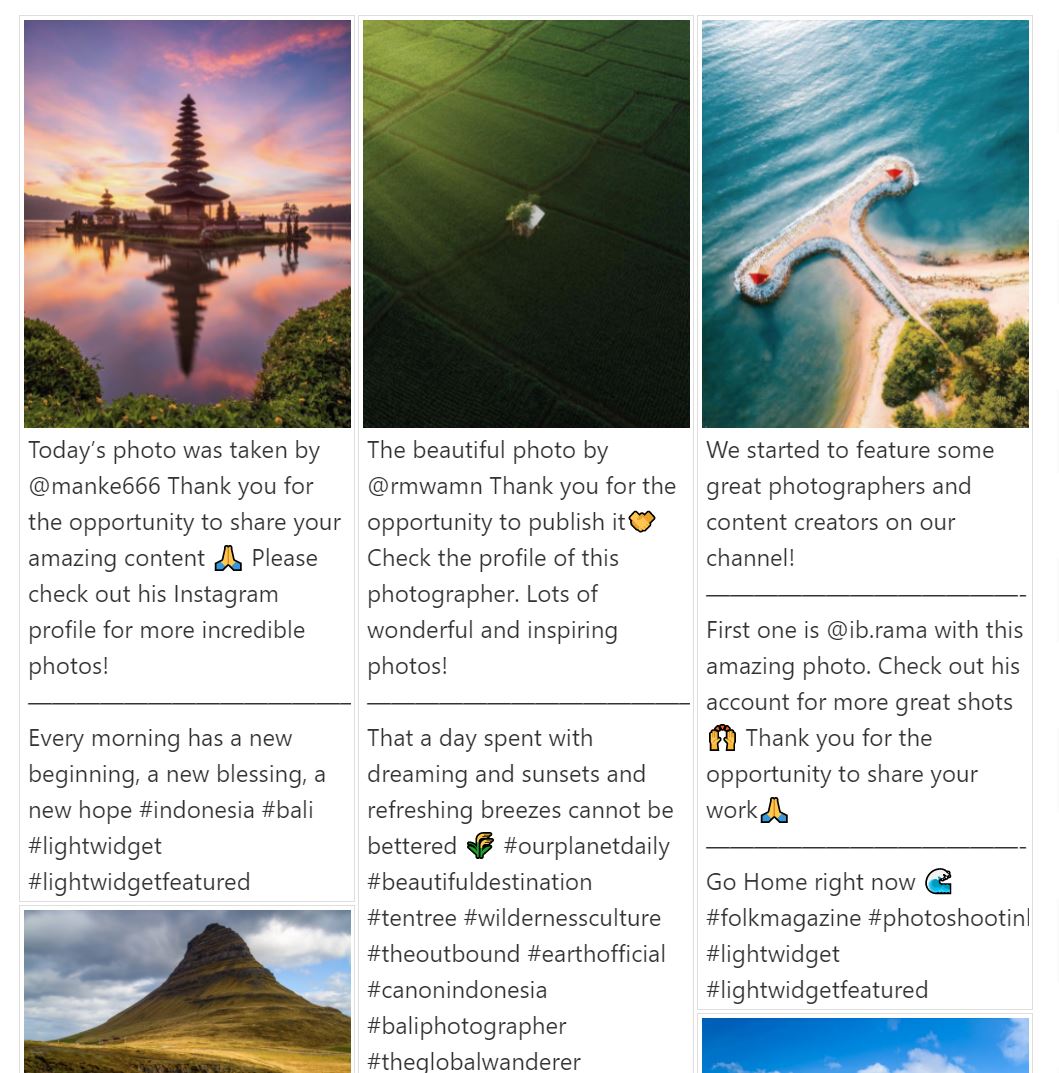 And here is the after: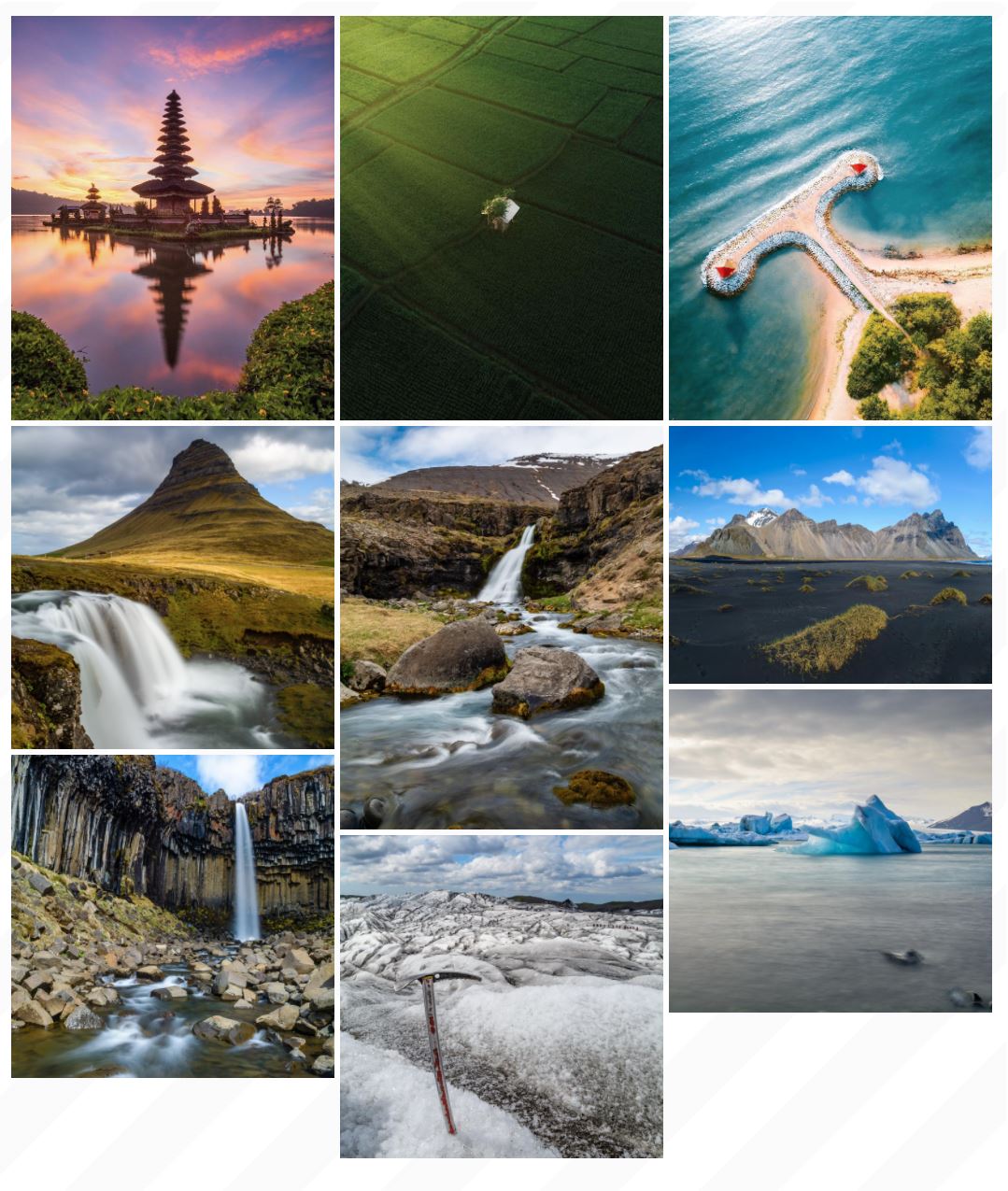 Looks much cleaner! You still have the option to show the captions and even to trim them to the given length like in grid captions.
Updates to slideshow widgets
Slideshow types of widgets (currently named Slider) also got an update related to captions. It is now possible to show captions under the images like in any other type of widget. Captions can also be trimmed to the given length.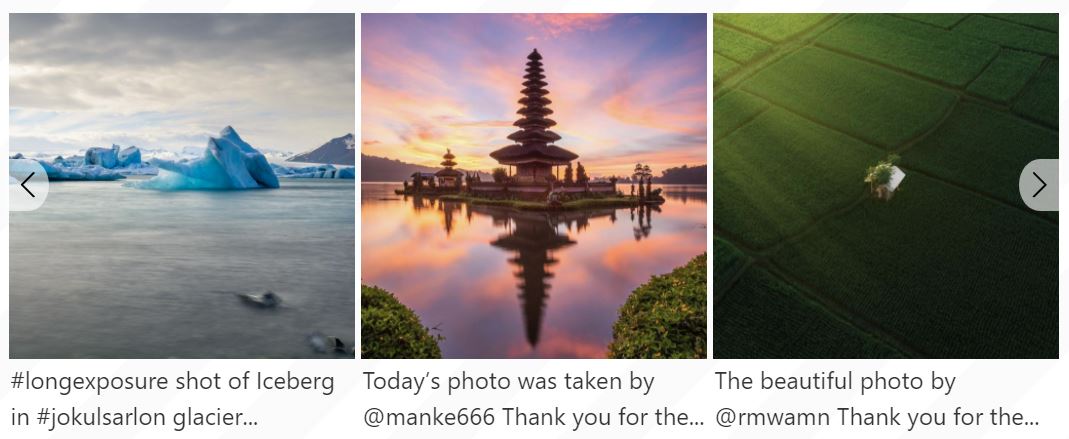 Other (tech) changes
There are multiple other changes to the website and to widgets. Here are two of them that can affect your widgets:
Captions placed in figcaption tag and alt attribute are now trimmed. If user does not configure the widget to show captions there are trimmed to 100 characters, instead of including entire caption. It keeps the SEO happy but at the same time it decreases the size of the widget quite considerably!
We removed the lightwidget__posts--caption class from our widgets. If your are using it in your Custom CSS, please check if your widget is working correctly.